Services for Manufacturers, Wholesalers, Retailers, Exporters and Trading Companies
When you study a trade credit insurance policy you know that there is more to it than simply paying the premium and "putting it on the shelf" until its next annual renewal. In fact, if you have looked at political and commercial risk coverage for receivables, you know that there are more ways to make mistakes than you ever thought possible. Your policy may include:

Buyer Credit Limits


Country Credit Limits


Policy Credit Limits


Discretionary Credit Limits


Excess of Buyer, Country and/or Policy Credit Limits


Annual Policy Renewal


Buyer Credit Renewal (Different from annual renewal)


Buyer Limitations


Country Limitations


Policy Limitations


Fee Schedules - policy, country and/or buyer


Monthly, Quarterly or Annual Premium and Shipment Reports


Monthly, Quarterly, or Annual Past-Due Reports


Keeping track of all of these factors individually, and for each buyer under the policy, can be a daunting task. Even the most experienced among us can make mistakes. That is why Trade Banker® was created. It eliminates most of the common errors and addresses the most common reasons for claim denial.

IT GUARDS AGAINST THE FOUR KEY REASONS FOR CLAIM DENIAL:

Failure To Report

ALL

transactions




Underreporting

ALL

transactions



Inadequate Buyer Limits (shipping without coverage)


Late Filing (and late premium payment)


First, it guides you through the process of loading the insurance policy terms and conditions into the system. Virtually every insurance policy type that is commonly written in the U.S. (and internationally) can be installed onto the system.
Trade Banker®
requires that data be entered in specific fields so "acts of omission" are minimized.

Information on each buyer is quick and easy to load.
Trade Banker®
stores this information in your own proprietary database. Then, as you enter the information on each invoice (manually or through
Trade Banker's®
unique electronic, automated data upload feature),
Trade Banker®
will verify that the invoice matches ALL the terms and conditions of the policy.

Finally, when payments are received and entered into the system,
Trade Banker®
will automatically pay off invoices and increase the availability of that buyer's credit limit. No more guessing if you are covered on new shipments.

Best of all, both of these functions - invoice and payment input- can be automated. This dramatically lowers the costs of managing insurance and trade finance lending. For the automated data upload feature,
Trade Banker®
uses the convenient and universal delimited ASCII format. This mitigates against data entry errors from the very beginning and utilizes a user-friendly format. No high-tech operating issues are required of your IT people.

How does
Trade Banker®
work? Here is a simple diagram of how this on-line system works: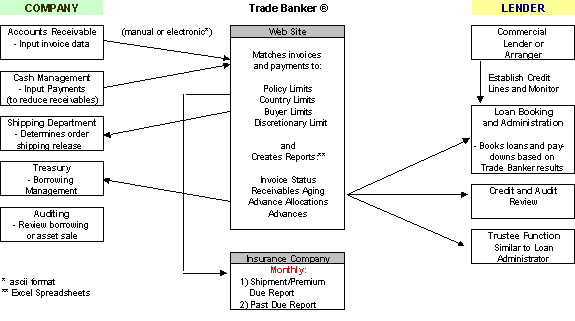 One of the most important features of the system is the data management or reports function. All reports are in Microsoft EXCEL® Workbook format so they are easy to use, easy to save and easy to incorporate into other reports and databases. The easiest part of reporting is the ability to e-mail your monthly, quarterly or annual premium or past due reports to the insurance company. Most insurers now accept reports in this manner. You will no longer have to question what is covered and when it was reported!

New and unique reports can be created for your specific needs. Programmers at Lex-Tek International can create these reports for each user at nominal additional costs.

In fact, for all of the parties below,
Trade Banker®
can satisfy everyone's need for policy information:

Insurance Companies:

Premium and Shipment Reports


Past-Due Reports


Accurate and timely administrative requests

Policy Holders (Non- Bank):
For Cash Managment and Accounts Recievable

Invoice Status Reports


Receivables Aging Reports

Shipping Departments:

Buyer Credit Limit Availability Reports


Country Schedule of shipping restrictions

Treasury Department:

Advance Allocation Reports

Lenders:
Credit Departments:

Advance Allocation Reports for borrowing base management

Audit Departments:

All Reports for borrowing covenant compliance

Country Credit Managers:

Buyer Credit Limit Availability Reports


Advance Allocation Reports Country Schedule of shipping restrictions


(

Trade Banker®

can be used as a country risk management tool for smaller banks that do not have internal systems of measuring theirs and their borrowers' country exposure.)

Trustees and Financial Arrangers for Security Placements:

All reports as part of trustee functions to manage borrowing base, debt covenants, rollovers and repayment terms.
Trade Banker®
is a cost-efficient system of managing your trade credit insurance needs to:

Eliminate human errors


Reduce manpower costs of administration and management


Improve employee efficiency and proficiency


Reduce Claim Denials


Provide reports in user-friendly MS Excel® format


Improve and increase financing-eligibility of insured receivables


Requires no special software installation - easy for IT administration


Provide a high security environment - four levels of password protection guards against unauthorized access


Available 365/24/7 (no vacations, leaves or holidays)


Trade Banker®
is available as an on-line system, you do not have costly "Return on Technology Investment" to calculate. It is a monthly service, just like your telephone bill, only it pays for itself. License Fees are designed to meet each individual user needs.
AND
you are only paying only for this service, not for extraneous features or additional products that you do not need or want.

For more information, Contact Us or call (404) 223-2453 for more information.
Printable Version of This Page

Top of Page | Home | About Us | Contact Us